Freeman Frost White Mountain Half Marathon
Thank you to all participants, volunteers and staff who made this event both possible AND FUN. 
Results: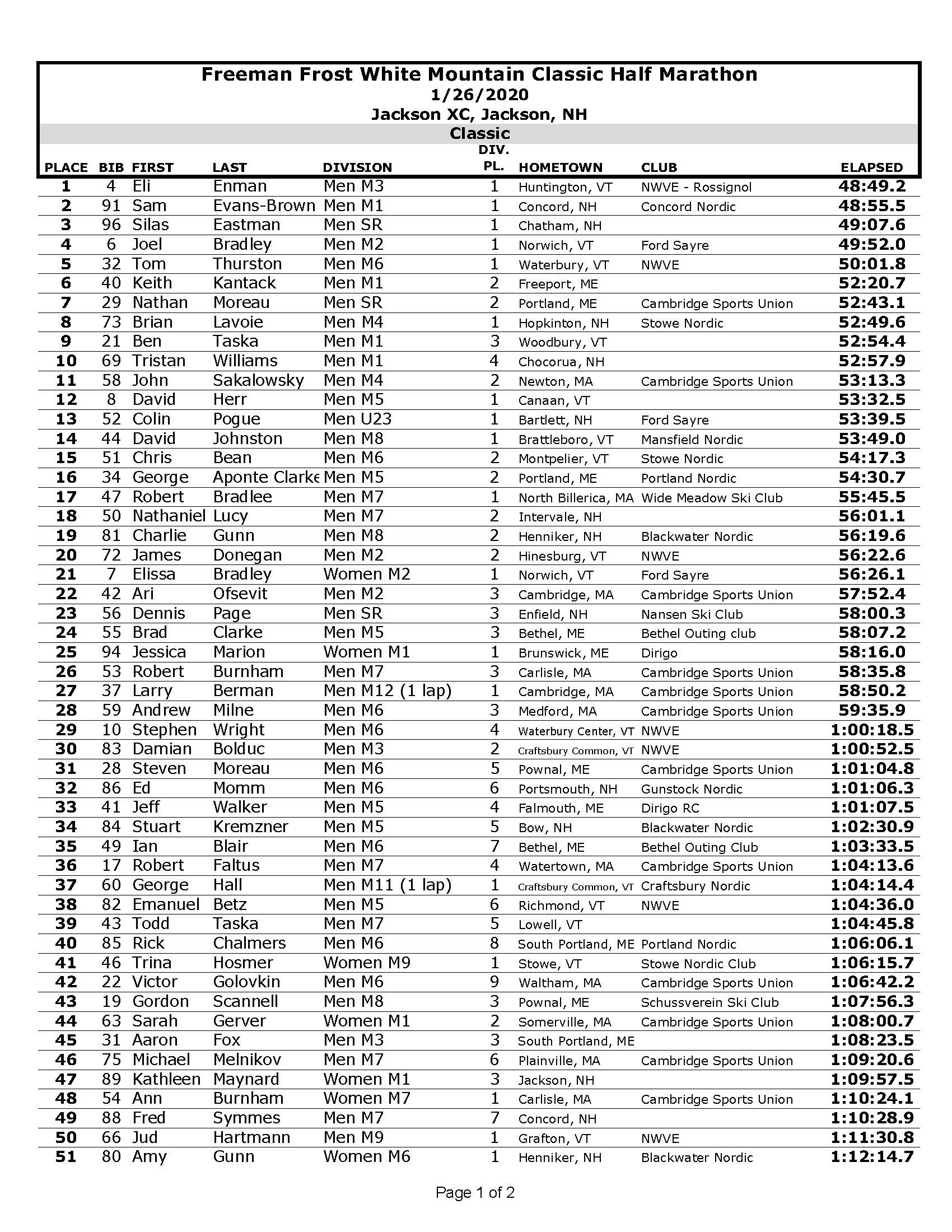 2020 Freeman Frost White Mountain Classic Half Marathon Information – Sunday January 26, 2000
BIB PICK UP: Sunday (1/26/2000) from 7 – 9:00 AM at the JSTF Touring Center (153 Main Street, Jackson, NH).
REST ROOMS: Downstairs in the JSTF Center and at Whitney Community Center.
START TIMES: Timed Race 9:30 AM.
MAP OF RACE COURSE: The course map will be posted in the Touring Center. The start is across the street from the Touring Center, makes one loop on the golf course and goes up the Yodel, does two laps on the Eagle fields, the Wave, John, Henry and Alice's Alley; returns down the Yodel and finishes where it started, across from the Touring Center. It will be approximately 24 Km pending course conditions.
START: Self Seed Mass Start – If the person behind you is a faster skier, your start will be more enjoyable by switching positions.  Touring participants, please seed yourself in back of the racers.
TECHNIQUE: Classic technique only.
WAX RULES: NENSA rules on fluorinated waxes applies. 
SAFETY: Report any accidents or issues to the next feed station or road crossing personnel. Emergency Medical Staff will be available at the Start and Finish areas and at the Feed Station. Remember to drink plenty of fluids to prevent dehydration.
NON-FINISHERS: If you decide to not finish or do not complete the full course please let the finish area staff know.
FEED STATION: There will be one feed station at the top of the Wave that can be accessed during each lap. Water, sports drink, cookies, and granola bars will be provided. Water will be available as you cross the finish line.
POST RACE LUNCH: Post race lunch at Whitney Community Center from 11:30 until 2:15 PM. The food for the lunch has been donated by the Valley Originals and other local establishments. The Whitney Community Center is behind the Jackson Grammar School 200 yards from the Touring Center. YOUR BIB IS YOUR TICKET!
Non-participants may join the post-race lunch for $15, so there is no need for the family to be separated. Pay at the door at the Whitney Center. Racing or Touring participants need to bring their bib as a ticket. If friends & family of participants prefer, there are several eating establishments nearby.
AGE GROUP WINNERS: A digital screen will show finishers and age group winners in the JSTF Center. Pick up your prize at the JSTF Ticket/Information Desk.
OVERALL TOP 3 MEN AND WOMEN RACE AWARDS: Race awards to the top 3 men and women overall will be presented at the Lunch at the Whitney Center at approximately 1:30 PM.
LOST AND FOUND: Touring Center
RESOURCE PHONE: Jackson Ski Touring Foundation 603-383-9355