Trails Dedications & Potluck Dinner
February 9 @ 3:00 pm

-

8:00 pm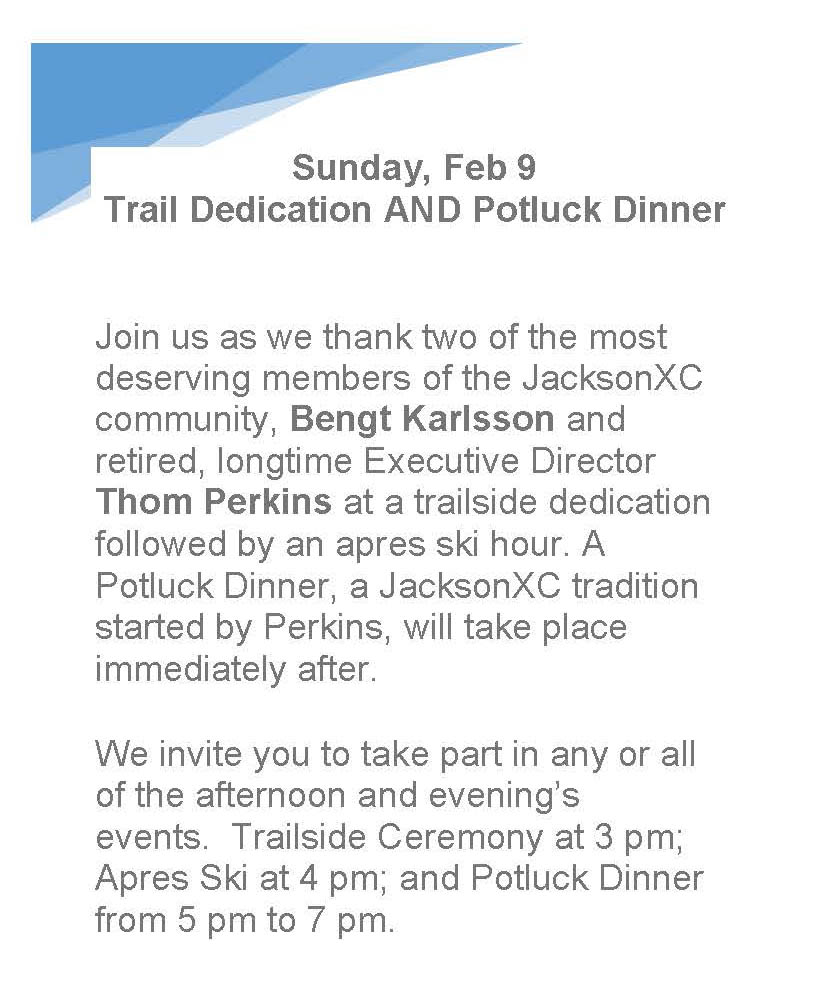 Join us for all or part of the day as JacksonXC Celebrates
Thom Perkins & Bengt Karlsson
Trails Dedications & Potluck Dinner
Sunday, Feb. 9
Dedication on the Trails: 3 pm – A group will depart the Touring Center at 2:30 to ski to this location which is at the junction of two trails near the Ellis River Trail.  Thom's Reach is the southbound trail that links the Ellis River Trail to the bridge near Gray's Field; and The Bengt is a trail that has been known as "South Hall Connector." They meet right near Gray's Field. These two trails are "workhorse" trails in our network and this gives us the opportunity to highlight the trails in our system AND honor two individuals who have made skiing possible in Jackson over many years.
Apres Ski Party: 4 pm –  At the Wentworth Resort Hotel.
Potluck Dinner: 5 pm to 7 pm – At the Touring Center. Feel free to drop off your Potluck Item any time after 2 pm. We will have a "crock pot" station in the back office.
Detailed Agenda:
Trail Dedication
February 9, 2020
2:30 PM        Group departure from Touring Center
Most will be on skis; Pisten Bully to accompany skiers.
Volunteers will direct skiers to the dedication location from                                            the Ellis River Trail
Signs will direct skiers to the dedication location from beginning of                              Ellis River Trail, intersection at Ellis River Trail; Picnic Table.
3:00 PM        Meet at the intersection of Thom's Reach and The Bengt
Generally known as the Gray's Field Bridge.
Welcome by Ellen Chandler
Brief remark by Debony Diehl, President of JSTF
Thom and Bengt to be presented with actual signs to hang up.
Thom and Bengt each hang up his respective sign.
Photography moment.
Proceed to Wentworth Resort Hotel
4:00 PM        Apres Ski Party at Wentworth Resort Hotel
Complimentary hors d'ouvres, including Wentworth's specialty cheese fondue; ash bar
5:00 PM        Potluck Dinner Opens
Quick Recap Announcement and Photo by Fireplace
Potluck ensues
7:00 PM        Adieu