Trail Report
Updated daily during the season
Monday, Nov. 27, 2023
The predicted rain came in last night. The good news is that it has not wiped us out in terms of snow base, but JacksonXC is closed for skiing today. The office is open for season pass and other purchases; and the Rental Shop is open today from 2 pm to 4 pm today.
Please help all of us by staying off the trails. The Golf Course is closed for skiing and we ask for your help in not skiing elsewhere, too.  Skiing on the wet, thin snow will compress and essentially destroy it. If we let it drain there will be snow left when the temperatures drop.
Also, "summer is over" so that means the ski trails are for skiing. It's been great to walk, nordic walk and play with dogs on the Wave and Ellis River Trail, etc., but those trails are now back in "ski mode" and for skiing (or on the specific snowshoe trails, snowshoeing) only.  Thank you for your help.
We plan to resume snowmaking on Tuesday.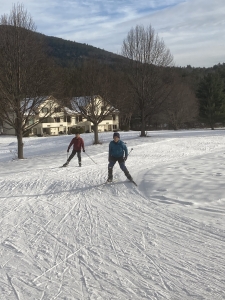 You may purchase season passes online or over the phone (or in-person.)
JacksonXC is a 501(c)3 non-profit charitable organization.Contributions from donors like you allow us to go beyond the ordinary in terms of youth programs, an extensive trail network and a greater diversity of trail experiences than a traditional business model would allow. You can help by joining many of your fellow skiers and making a contribution today.