January 17, Friday
Friday Gliders. Ski at 1 pm; Socialize at 3 pm. $15 drop in fee, ticket/pass required.
A brief report on a big night of grooming, and still more grooming taking place today.   6″ of beautiful new snow over what was in some places are very meager base. For today you will find primarily flat-packed corduroy.. Now we have a great snow surface (and some depth!) to groom with both classic tracks and a skate platform for Saturday and beyond.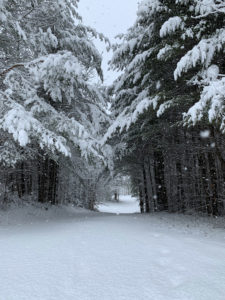 Upper Village: everything in the Upper Village Trail system except for the Woodchuck (waiting for greater snow depths) and  very top of the Betty Whitney was groomed.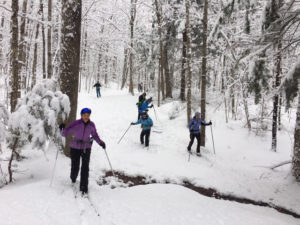 Wentworth was extensively groomed; this is our "superhighway" – 3 K of skiing, about 20K of grooming.
The Yodel was groomed.
The Ellis River Trail out to the Winneweta cutoff; Keeney, South Hall, Wifferdill and Maple Mountain, plus the top of North Hall that connects to Maple.
Prospect:: we are in the process of packing a portion of Prospect, targeting Boggy Brook and possibly Quail.
Later in the morning we plan to set one or more classic tracks on the Wentworth Loop that is closest to the Touring Center.
Looking ahead:
Jan. 20 Tuesday: Youth Programs, Toddlers & Tots (9:30 -11:30 am),  Speed Camp (3:30 – 4:30 pm)
Jan. 26 Freeman Frost White Mountain Classic. Race or tour – it's your challenge!
Seeking volunteers for upcoming events, including the Freeman Frost White Mountain Classic.
Volunteer assignments include timing assistants, water station staff, finish line crew, course marshalls.
Time commitment in the 2-3 hour range.
Call 603-383-9355, email: info@jacksonxc.org or stop at desk to sign up/learn more.
If you are renewing your season pass and can bring your previous pass with you, that would be great. We can update pass renewals with an official date sticker… saves time and (albeit small) resources.
Season passes for 2019-2020 are now on sale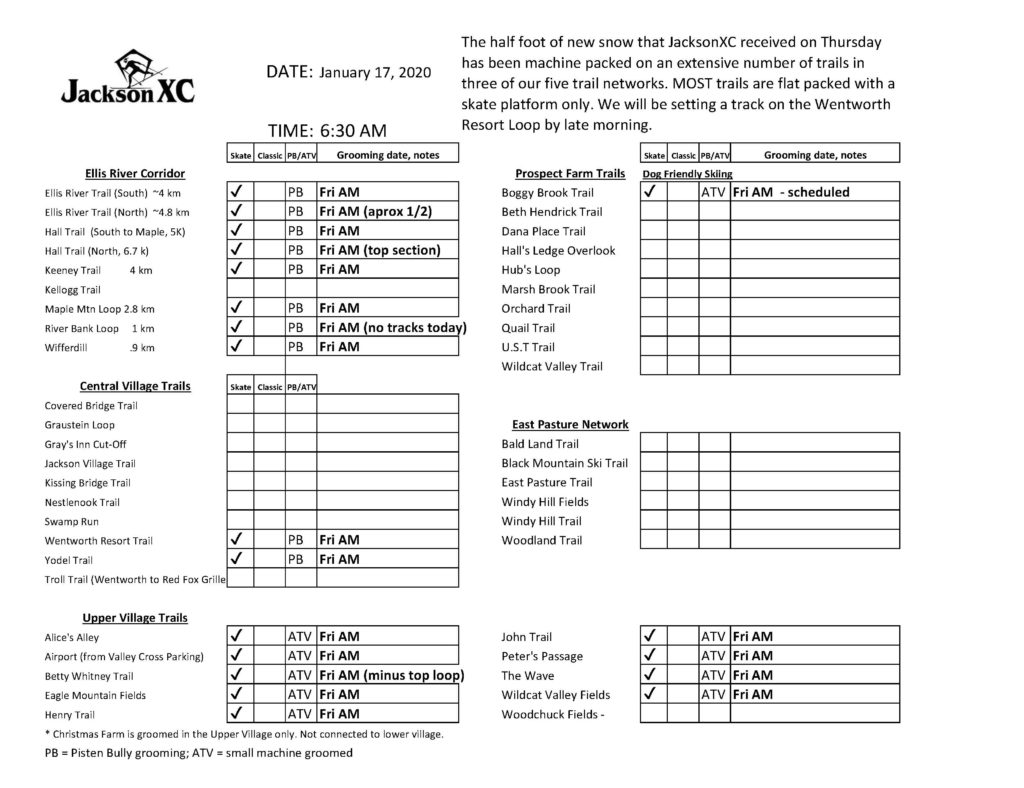 https://www.facebook.com/JacksonXC/
XC skiing is an outdoor activity, so changes of weather, environmental changes, and unforeseen circumstances can lead to changes and deviations from our plans, and from our latest observations.