Trail Report
Updated daily during the season
Friday, April 14,2023   Update
There has been no grooming since last weekend; and it does not look like we will groom again this season.  If you read this page regularly you know we have a "never say never" point of view… but it is looking like the grooming season is over.
That said, there is still skiing.  The start of the trails at Prospect Farm is very "dirty" for so many reasons.  The further you get into the trails the more snow you will find, but there are growing gaps.
ALSO, the last .1 mile of driving, the dirt road, is extremely riddled with soft potholes (worse than firm potholes as the soft ones shape-shift as you are driving through them.) It might be wise to park at the auxiliary parking area (at the Holcombe snowshoe trailhead) and walk .25 miles to the ski trail.
Please drive to Prospect Farm (and everywhere in Jackson) like it was YOUR neighborhood – the speed limit on Carter Notch Road is 30 mph, dropping to 25 mph near the top, because it is a neighborhood: people and pets live here! And when you are on the dirt road, remember that speeding and aggressive handling make the road worse for everyone.  
Thank you for a great season, and in particular a spectacular March. And major thanks to the skiers and snowshoers who have purchased season passes for next year.  We will put these funds to good use making improvements and taking care of necessary maintenance to make the trails snow-ready as early as possible!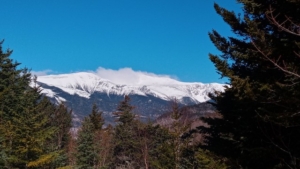 There have been reports of moose.  Please be aware and back off; be prepared to restrain your dog, too. A female moose may be pregnant, need to preserve energy for foraging and a little short on temper. We are lucky to be skiing in their habitat.
If you are skiing with a dog, you need to have leash with you, and you need to be willing and able to get your dog immediately under control.

 

Prospect Farm is dog-friendly, let's keep it friendly for everyone.

 
You may purchase season passes online or over the phone (or in-person.)
JacksonXC is a 501(c)3 non-profit charitable organization.Contributions from donors like you allow us to go beyond the ordinary in terms of youth programs, an extensive trail network and a greater diversity of trail experiences than a traditional business model would allow. You can help by joining many of your fellow skiers and making a contribution today.