Tuesday, Dec. 10

On Dec.  10, there will not be any ski instruction available at JacksonXC; it's likely there will not be any for several days.  Sorry for an inconvenience, but hoping advance notice will prevent disappointment. Thank you.
We are not selling tickets today; and there is no ski patrol on the trails and today is a day to leave the trails alone. With rain, which was not as steady as we had expected yesterday still in today's forecast, it's important to let the trails drain as much as possible.  Stepping or skiing on the snow just squishes the life out of it.
Season passes along with other guests services will be available in the Center from 9 am through 4 pm.
There is a Potluck Dinner on Dec. 14; if you did not receive notification of this (you can see below we're working getting the email list updated) and would like to attend please call today for details. 603-383-9355.
Would you like to receive regular email notifications from JacksonXC?  Send a note here with your preferred email address: info@jacksonXC.org (This address will not be shared with any other entity.) The daily ski report email is still in the works, but you'll also be on the list to receive updates on events, etc. Thank you to those who have already signed up!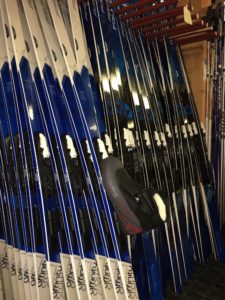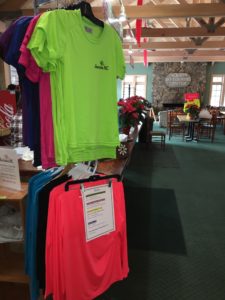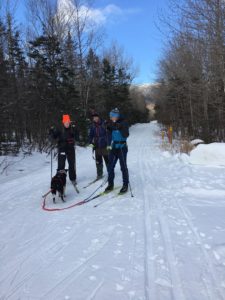 Ski picture is a dog skijoring session on Boggy Brook, Dec. 7.
Plus some of our new ski fleet and a sampling of t-shirts available for purchase.
The Touring Center is offering the continuation of the ski swap, and Gorham Bike & Ski is here to take care of your gear and help you find new ski equipment, clothing and accessories.
The rental shop is transitioning to a new fleet of skis and boots (adult touring):  Salomon Prolink Boot on a new model of Fischer ski with NNN bindings.  You can get a very good deal on the purchase of older rental items, depending on availability.
Season passes for 2019-2020 are now on sale
https://www.facebook.com/JacksonXC/
XC skiing is an outdoor activity, so changes of weather, environmental changes, and unforeseen circumstances can lead to changes and deviations from our plans, and from our latest observations.