Tuesday, March 19

An astounding amount of snow, and snowcover is still great. Callers are incredulous but just get out on the trail and see how high the trail surfaces are in comparison to the trees and the bridge decks. The challenge of these beautiful snow-saving cold night temperatures is that the snow is hard and even with Pisten Bully grooming it takes time to soften the surfaces.  If you want good skiing first thing, go for the most recent groomers; if you can wait 'til the sun works its magic, you have more options.
Trails groomed Tuesday morning: Yodel, Wentworth and the Ellis River up through Dollof Farm (south and 99% of the north); plus the Upper Village trails of Alice's, Wildcat, Eagle, Wave, Christmas Farm, John, Henry, Betty; and the groomer check out the Woodchuck and said yesterday's extensive grooming there looked and felt good. Give the Keeney, Wifferdill and South and North Hall a little more time, but they were all groomed Monday morning.  Prospect is scheduled to be groomed Tuesday mid-AM.
Yesterday the East Pasture Loop was groomed – give it a few hours to warm up today as the snow will be reacting to a high moisture content and cold overnight temperatures.  These trails will be more suitable for skiers who can handle fast conditions and a firm surface that will hold onto yesterday's skier tracks; an aggressive classic touring ski would probably be the right ski.
In spring time most skiers will be happiest on waxless, classic touring skis. Waxless does not mean "never-waxed" though – the snow is a lot "slower" at this time of year due to high moisture content; you may wish to wax or otherwise treat (F4 or Maxiglide) your skis for better performance.
Season passes for 2019-2020 are now on sale at the best prices of the year! You can ski every day for the rest of this season and all of next when you buy a pass today!
Rental equipment is now on sale – quantities limited:
Adult classic waxless touring skis ($85/pair) with SNS bindings
SNS boots ($25)
"High school" racing skis (NNN bindings): skate skis ($125), waxable classic skis  ($100).
Dog ski-joring harnesses available to rent. A limited number (size) of dog ski-joring harnesses are available to rent.
https://www.facebook.com/JacksonXC/
Great first time excursions:
Wentworth Resort Trail – This gentle loop is perfect for new skiers and "conversational classic" with double tracks, along the junction of the Wildcat and Ellis Rivers.
Ellis River Trail and Riverbank  – Ski along the Storybook Trail to the Warming Cabin and back.
Woodchuck Trail: Beautful high valley setting, ski the Woodchuck Loop or access the entire Upper Village via the bridge to Wildcat Valley Fields, Eagle Fields and more.
Long Tours :
Ellis River to "Picnic Table" and out to Gray's Field:  10+ K with no major hills
Full Ellis River to Kellogg, North Hall and return via South Hall.  (Ellis groomed today; Kellogg, N and S Hall yesterday)
Trails in the TrailHub report that are listed as "variable" have good snowcover that has been consolidated over the season with grooming but have not been groomed lately.  Great fun on classic touring skis for skiers looking for a more adventurous outing.
TODAY and This Week:
Daily: Group Learn to Ski Instruction: offered at 10:15, 11:30 and 1:30 – call to register if possible (603-383-9355); walk-ins welcome by availability.
Daily: Private Instruction: 9 am and 2:30 pm, and by availability (stop in and see if there is additional availability).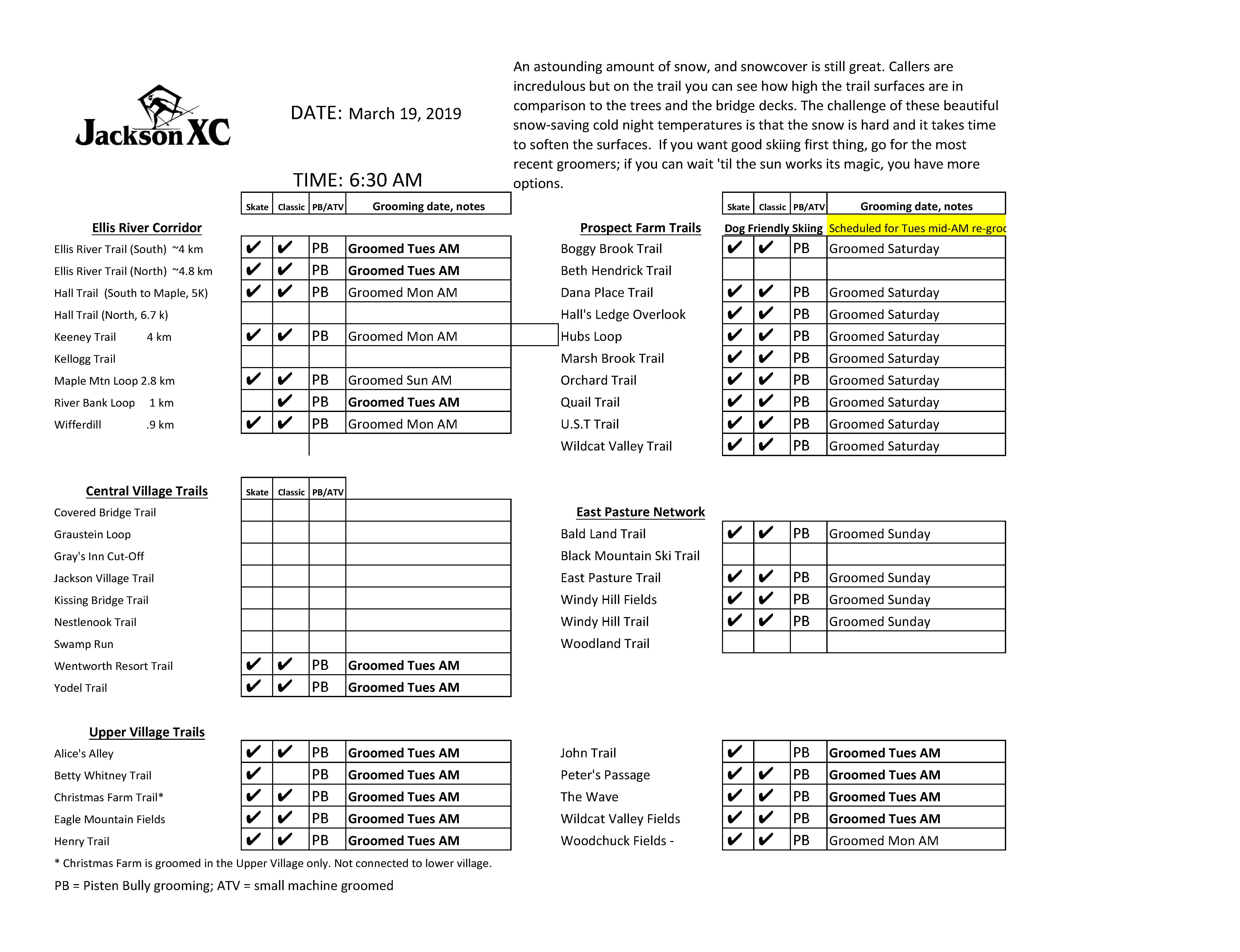 XC skiing is an outdoor activity, so changes of weather, environmental changes, and unforeseen circumstances can lead to changes and deviations from our plans, and from our latest observations.